What Is An American Sugarbush Harlequin Draft?

What is a Sugarbush Harlequin Draft? It's a combination of all the best things you can ask for in a horse. It's intelligent, well built, eye catching, has lovely movement, good disposition, agile and versatile. This is not a plow horse with a saddle propped on its, nor is it a light horse that cannot take the rigors of today's modern riders. The Sugarbush Harlequin Draft is a true multi tasker. He can be ridden, driven, show, be used as a therapy horse, fox hunter, packing, basically anything any horse can do, he can do. The Sugarbush Harlequin Draft is a horse that is only limited by your imagination.

What is ASHDA? It's an association that was put together to preserve the heritage and ensure the future of this breed. It's a family based organization that supports a membership of varied interests and levels of ability. From young to old, professional to new horse owner, we have something to offer everyone. As our breed grows, opportunities will grow with it. The American Sugarbush Harlequin Draft is a highly marketable animal that will fill a niche currently missing in the horse industry, that of a very sound, eye-catching, easily trained and genetically defect free animal. We're committed for the long term, for our members and our horses.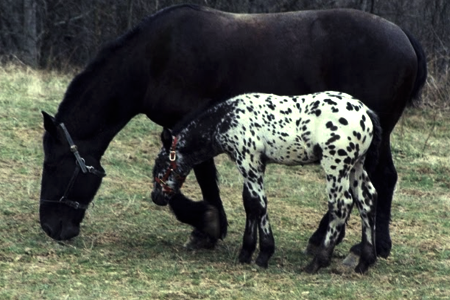 A young Sugarbush Harley Quinne with dam......Owned by Everett Smith.
So where do they come from?
Their story actually starts way back in the 70s when a young man named Michael Hanna (Muir) bought an Appaloosa stallion called Apache Double from Iola Hatley. He paid a record price for him, $100,000.00. Apache Double is the first and only Appaloosa to go over the $2 million mark in winnings of his get. He's a great-grandson of Reigh Count who won the Kentucky Derby and a maternal grandson of ApHC Hall of Fame horse Apache. Along with breeding Appaloosa race horses at his Stonewall Stud Farm Michael Hanna took an interest in drafts and driving. He purchased Charlie Degas, the purebred Percheron stallion foaled in 1973, who became the foundation stallion of the Stonewall Studbook and an important influence in the development of the Stonewall Sporthorse.
Michael bred Charlie Degas to a daughter of Apache Double called Stonewall Dottie West. Stonewall Baby Jane, 23 as of this writing, is a big bay leopard mare, she was later bred to Stonewall Showmaster, another purebred Percheron Stallion and produced Stonewall Rascal who is the founding stallion of the Sugarbush Harlequin Draft breed. About this time Michael Hanna had some serious life changes. He changed his last name to Muir in honor of his grandfather's name, because it was going to die out, and he discovered he had MS. He sold his racehorses and started focusing more and more on driving. In an effort to bring awareness to MS he decided to drive across America with his trio of Stonewall Sport Horse mares, Stonewall Stella, Stonewall Blanche and Stonewall Scarlett. They drove from California to Florida as a unicorn hitch. It was an amazing feat and showed how truly outstanding these spotted draft crosses are.
Everett Smith also owned a carriage company and had taken up driving as a pastime and part time job. His Sugarbush Hitch Company in Wildwood Ohio was using his breed of choice, Percherons. In 1998 he saw an article about Michael Muir and his spotted team and contacted him. The two men discussed their goals and what each wanted in an elegant spotted driving horse and the Sugarbush Harlequin Draft Horse and Stonewall Sport Horse Registry was born. Everett bred his percheron mare, Sugarbush Felina Del Noche to Stonewall Rascal and she produced Sugarbush Harley Quinne, a loud spotted black and white leopard. Harley, as he was known, was Everett's ideal horse; a ¾ draft with loud color, traceable pedigree and good conformation and temperament.
Sugarbush Harley Quinne gained the Sugarbush Hitch Company a lot of attention and people started seeking out Sugarbushes! Spotted drafts were getting noticed and whether it was the heavier ¾ draft Sugarbush or the lighter ½ draft Stonewall Sporthorses both names had gone into the equestrian vernacular to denote LP marked heavy horses. Sadly a twofold tragedy struck. Sugarbush Harley Quinne died leaving only one intact son, Sugarbush Harley's Classic O. It was then that Everett discovered that Stonewall Rascal had been sold and gelded, so he could not repeat the breeding that produced Harley Quinne. Everett was also facing health issues and after a discussion with Michael Muir they decided to separate out the registry for each breed. The Stonewall Sporthorse Studbook is now in California, and the American Sugarbush Harlequin Draft Association is now in Brookeneal, VA. In an effort to save the breed a group of dedicated Sugarbush Harlequin draft lovers got together and with Everett Smith's blessing they have rebuilt the breed using his original lines and making requirements for genetic testing, conformation and other factors. Today the American Sugarbush Harlequin Draft is a growing breed and gaining international notice. They are invited to appear at Breyerfest every year where they are a crowd and artist favorite. ASHDA has been to the International Horse Fair in Beijing, China and featured at other expos throughout the USA. Articles covering the history of the breed have been featured in the Draft Horse Journal, on various websites and forums.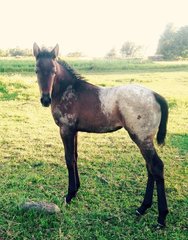 You can't get a Sugarbush Harlequin Draft just by crossing an Appaloosa on a Draft horse, or a Draft horse on any other spotted breed. Those are just crossbred drafts. A Sugarbush Harlequin Draft has to meet either the pedigree criteria of parents registered with the original SHDHR or ASHDA or be approved by ASHDA by meeting the conformational and genetic testing requirements of the breed. A Sugarbush Harlequin Draft horse isn't just a mix, and it's not a name that can be applied to any spotted draft. Our standards are high and our approval process is rigorous, requiring conformational analysis, genetic testing and pedigree assessment. We want only the best. So don't be fooled, if the horse isn't registered with ASHDA or the original SHDHR, then it's not a Sugarbush Harlequin Draft.
​
The ASHDA Breed standard is the ideal to which all horses in the registry are compared. Horses coming in as Improvement Stock or Approved Crosses are scored against the standard in order to evaluate whether they would make worthwhile additions to the registry. While a horse as close to the standard as possible is preferred, it is understood that some comformational ideals cannot be produced all at once. Some areas of the standard are valued more greatly than others, especially in cases of structural integrity. For example, a horse with an ideal body and a sub-par head and neck will be scored higher than a horse with an ideal head and neck and sub-par body. We appreciate any horse that displays an ideal trait, but the bigger picture is always more important than a singular trait.


---
Looking To Buy an ASHDA Horse?